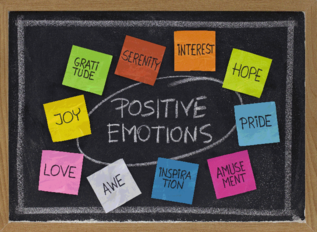 In a past post, we learned about the difference between the emotional, rational, and wise minds. The emotional mind can overwhelm our thoughts and decision making. This can make it more difficult to align our actions with our values. Our rational minds can lead us to become more robotic with our thinking and lead to us stuffing down our emotions. To create a wise mind, the intersection between emotions and rationality, we can use the ABC skill! Let's start with the "A"!
A – Accumulate Positive Emotions
This skill is about engaging in healthy activities that make you feel happy. Personally, I love to knit. The clacking of the needles and repetition of knitting make me feel calm and in the present moment. I try not to focus on the finished product and rather the calming feeling I have while just knitting and relaxing on my couch.
Now, give it a try and give your full attention to these pleasant activities to build positive emotions in the present moment. Do not focus on when the activity could end and if you are doing it perfectly. Create the possibility that positive events will happen in the future. Practice the Opposite to Emotion Action skill to work against what is holding you back like anxious thoughts while you are engaging in these enjoyable activities. For example, you may feel anxious that your project isn't coming out perfectly so practicing the opposite of anxiety would be to distract yourself from those thoughts by putting your full focus on the project.
Here are some examples of Pleasant Activities to try daily (10 out of 225 examples from the DBT Skills Training book):
Listening to Music
Laughing
Reading magazines
Having a quiet evening
Painting
Practicing religion
Going on a walk
Being spontaneous
Doing a craft
Playing a sport
Now let's consider the long-term and stop avoiding what we can do to create a fulfilling life. Discover what values are most important to you and find one value that you would like to improve now.
What are some goals that you can set to improve that value and pick one goal to work on?
What are some small action steps to use to work towards that goal and pick one to take now?
For more ideas on how to set goals, check out this blog post on SMART goals.