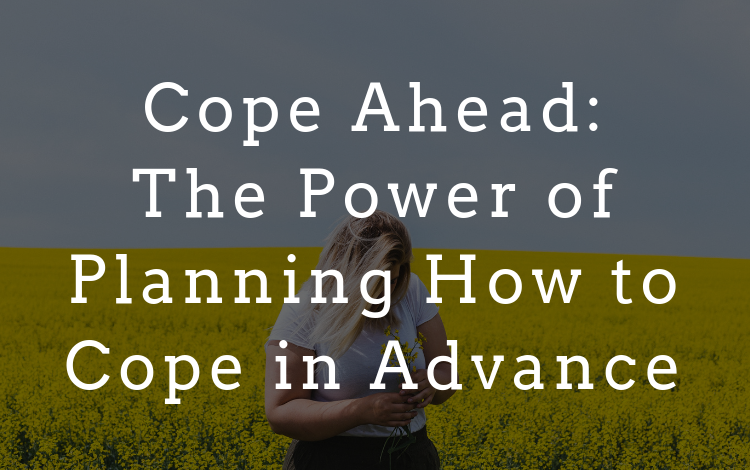 Now that we have completed A: Accumulated Positive Emotions & B: Built Mastery, it's time to C: Cope Ahead!
Are you anticipating that there could be an issue in the foreseeable future that is causing you anxiety before it has even happened? Do you want to feel more prepared and ready to tackle this challenge?
Learn how to cope ahead of your problems in 5 easy steps!
Describe the situation that may become problematic. What are the facts of the situation? Stay objective in this thinking. What emotions and actions are going to get in the way of using coping skills? Identify those emotions and actions. For example, if you get angry and overwhelmed, you may not be able to use deep breathing techniques.
Decide what coping skills you want to use and the details of these skills. For example, the specific deep breathing technique of "box breathing" will be used for 2 minutes. This is where you can breathe in 4 seconds, hold 4 seconds, breathe out 4 seconds, hold 4 seconds.
Imagine what the situation will be that you need to cope with. Paint a detailed picture in your mind of what you could be dealing with. Use your 5 senses to imagine what it could be like. Pretend and visualize that you are experiencing this situation in the present moment.
Rehearse how you will use your coping skills in your mind in detail. How will you act, think, and say? What can you do to cope if new problems arise in the situation. What is the worst case scenario and how can you cope with that?
Relax after rehearsing. What do you do for self-care? Check out my self-care post for some ideas. Can you practice mindfulness techniques and distraction from distressing emotions? My previous grounding techniques post offers some suggestions on how to focus on the present moment to bring relaxation.
Now you are ready to face any difficult situation face on. You've imagined the worst case scenario and how you would cope with it. Now the foreseeable event doesn't seem so daunting!
What are some situations that you would like to cope ahead with? Comment below!